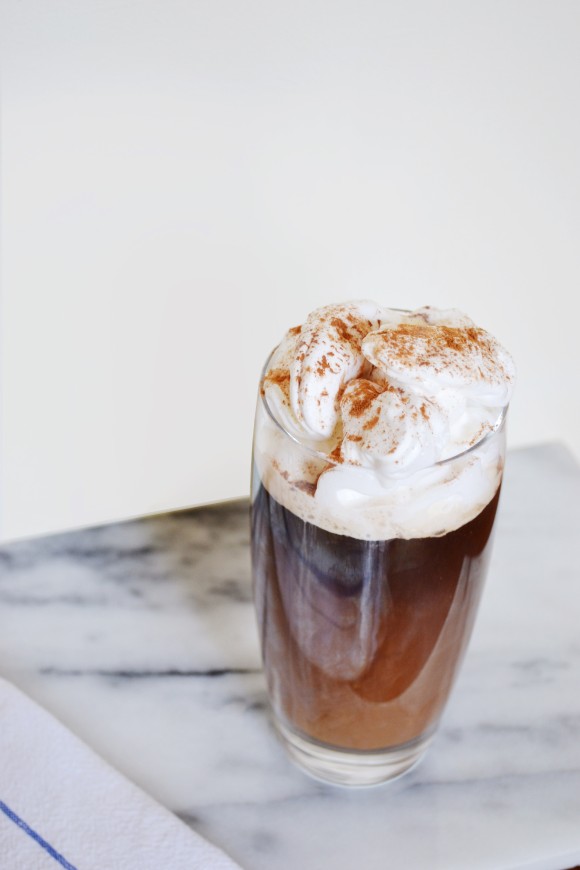 I'm not a huge coffee drinker but I love iced coffee in the summer and this super easy homemade version is delicious! It takes a few seconds to make and has such a nice, refreshing flavor. I've been making my own hazelnut milk to put in it and it gives it such a nutty, organic taste – love it.
Ingredients
+ 2.5

mL strong

cold coffee


+

1 cup

hazelnut

milk


+

2

tablespoons

soya whipped cream


+

sprinkle of cinnamon or cocoa powder


+

1 handful

of ice
Directions
Fill

a tall glass

3/4 full with

ice,

pour in the

coffee and

then

milk.

Top with

whipped

soy

cream and

finish by

sprinkling some

cocoa

or cinnamon

on top

.
Directions for your own hazelnut milk:
Place 3.5 ounces of hazelnuts in a large container, fill with water and leave to soak overnight. Drain the water, rinse, and place the hazelnuts and 2 cups of water in a blender. Blend until hazelnuts have completely broken down. Place muslin/cheese cloth over a colander and place in a large bowl. Pour the liquid over the cloth, then pull up on all ends to squeeze out as much liquid as possible. Serve straight away or store in the refrigerator until you are ready to use. It will keep fresh for 5 days. The milk might separate a bit while it sits, just give it a quick stir or shake and it's ready.