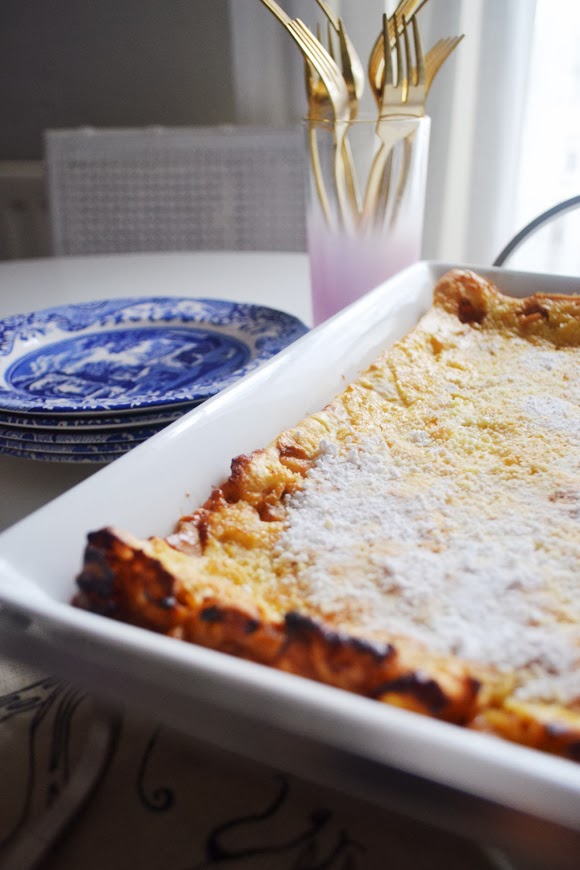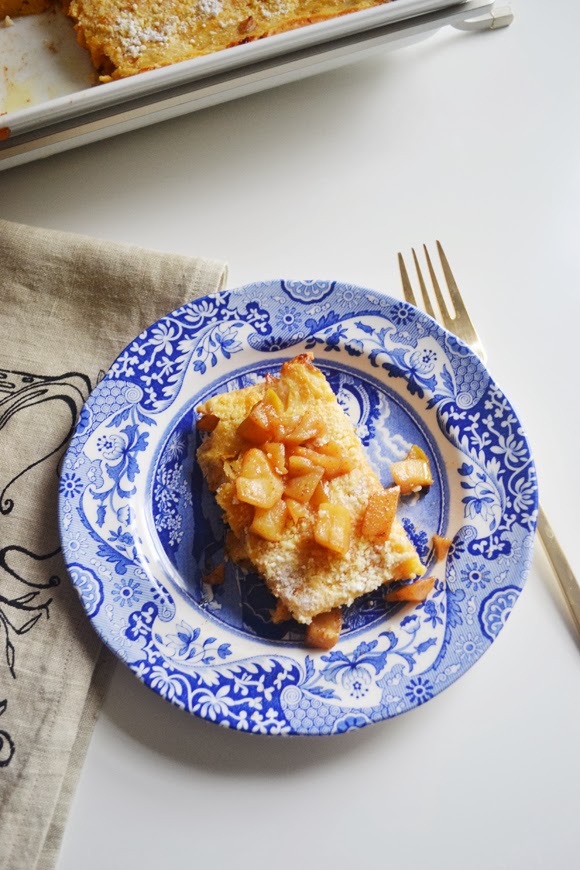 We had some friends over for last minute brunch over the weekend and I made this super easy apple puff pancake. It was such a crowd pleaser, we gobbled it up so fast. You can substitute the apples for pears if that's what you have on hand.
Ingredients
+ 4 tablespoons (1/2 stick) unsalted butter
+ 4 cups diced peeled tart apples, such as Granny Smith
+ 2 tablespoons firmly packed brown sugar
+ Juice of 1/2 lemon
+ 1/2 teaspoon ground cinnamon
+ 4 eggs, lightly beaten
+ 1 cup milk
+ 1 cup all-purpose flour
+ 1 teaspoon vanilla extract
+ 1/8 teaspoon salt
+ Confectioners' sugar for dusting
Directions
Preheat to 425°F. In a large fry pan over medium-high heat, melt 2 tablespoons of the butter. Add the apples and cook, turning as needed, just until tender, 5 to 7 minutes. Sprinkle evenly with the brown sugar, lemon juice and cinnamon and stir to combine. Remove from the heat. Place a large baking dish 12 inches in diameter or 9 by 13 inches in the oven to heat for 5 minutes. Remove the dish from the oven, add the remaining 2 tablespoons butter, and tilt the dish to coat the bottom and sides with the butter. Spoon the apples over the bottom of the dish in an even layer. In a bowl, whisk together the eggs, milk, flour, vanilla and salt until blended. Pour the batter over the hot fruit. Bake until the pancake is puffed and golden brown, 20 to 25 minutes. Using a fine-mesh sieve, dust the top with confectioners' sugar. Serve immediately. Serves 6.
Adapted from Williams-Sonoma Essentials of Breakfast and Brunch.