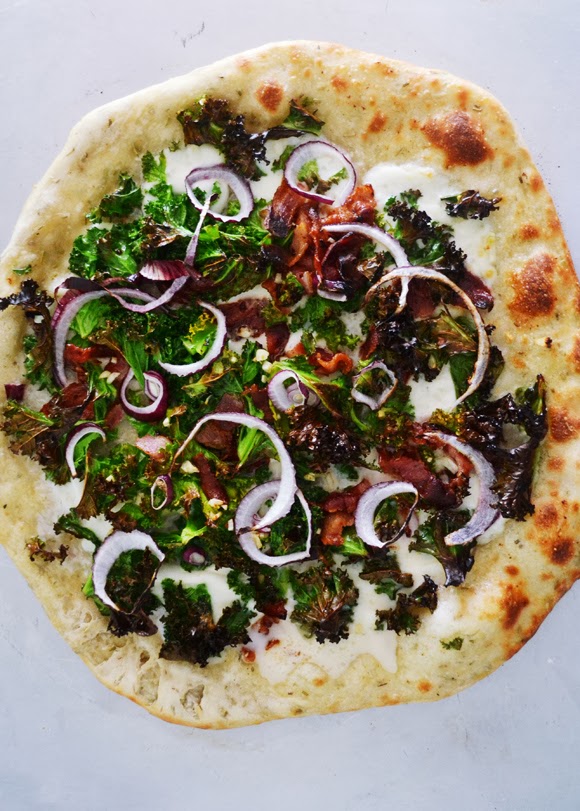 This is such an easy weeknight dinner, the flavor combination is so good!
Ingredients 
+ 4 slices thick-cut bacon, cut into 1/4-inch pieces
+ 2 1/2 cups curly kale leaves, torn into 1-inch pieces
+ 2 teaspoons olive oil
+ 2 cloves garlic, minced
+ 6 ounces mozzarella, thinly sliced
+ 1/3 cup thinly sliced red onions
+ Shredded Parmesan cheese
Directions
Preheat the oven to 500F/260C.
Roll out the pizza dough on a lightly floured surface until it is roughly 12 inches wide and 1/4-inch thick. Transfer the dough to the baking sheet. Cook the diced bacon in a medium pan set over medium-low heat until a majority of the fat has rendered. Remove the bacon pieces from the heat and transfer to a large bowl, along with 2 teaspoons of the bacon drippings. Add the kale, olive oil and garlic to the bowl, tossing to combine.
Arrange the mozzarella slices in a single layer on the pizza dough, leaving a 1/2-inch border around the edges. Evenly scatter the kale-bacon mixture on top of the cheese then top the kale with the sliced red onions. Brush the border of the pizza dough with the reserved bacon drippings.
Bake the pizza for 10 to 12 minutes until the crust is fully baked and golden brown. Remove the pizza from the oven to a cutting board, sprinkle it with Parmesan cheese, and slice and serve.