We made these cupcakes during my visit with my brother, sister-in-law, and niece. Both me and my sister-in-law agreed that these were pretty much the best cupcakes we've ever had. They're a little involved, but totally worth it. They're the perfect consistency and have the most delicious flavor that tastes just like the little gold-wrapped
Ferrero Rocher chocolates
.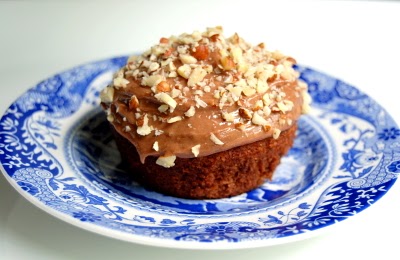 | For the cake |
1 1/2 cups flour
1/2 cup cocoa powder
1 teaspoon baking powder
1/2 teaspoon baking soda
1/2 teaspoon salt
1/2 cup French vanilla yogurt
1/2 teaspoon vanilla extract
1/2 teaspoon almond extract
1/2 cup butter
1 cup sugar
2 eggs
1/2 cup strong French vanilla coffee
| For the Nutella ganache |
1/4 cup heavy cream
1/2 cup Nutella
| For the chocolate hazelnut buttercream |
1/4 jar Nutella
1/4 cup butter
1/4 pound (bag) of confectioners' sugar
1 teaspoon vanilla extract
2 tablespoons heavy cream
Finely chopped hazelnuts, toasted
*****
| Cake |
Preheat the oven to
350ºF.
Sift together the flour, cocoa powder, baking powder, baking soda and salt in a large bowl. Set aside.
In a medium bowl, combine the French vanilla yogurt, and vanilla and almond extracts. Set aside. Cream the butter and sugar in the bowl of a standing mixer. Keep the mixer on medium speed until smooth, then set it on low speed as you add the eggs, one at a time, until combined. Starting and ending with the flour mixture, add the dry ingredients and wet ingredients mixtures, alternating each one. With the mixer still on low, slowly add the (room temperature) coffee into the batter and beat until combined. Divide the batter evenly into liner lined (or greased) cupcake pans, filling each cup to about ½ full. Bake for 12-15 minutes, or until a toothpick comes out barely clean then set aside to cool.
| Ganache |
While the cupcakes are cooling, prepare the ganache.
In a saucepan over medium heat, warm the heavy cream; slowly add in the Nutella, small measured spoonfuls at a time, stirring between additions until combined. When all of the Nutella has been added, set the saucepan aside to cool and thicken slightly. Using a pastry bag with tip attached, squeeze the ganache into the center of each cupcake.
| Buttercream |
In the bowl of your mixer, cream the butter and Nutella until combined. Add in the confectioner's sugar in small increments, allowing each addition to combine before adding the next; continue creaming the mixture until well blended.
Adjust the mixer speed to low and add the vanilla extract to the mixture. Add the heavy cream, one tablespoon at a time, until your buttercream consistency is right.Adjust the speed setting to high to fluff the frosting, then transfer to a piping bag or tool. Pipe onto the cupcakes, and top with finely chopped, toasted hazelnuts. Makes 12 cupcakes.