Today is Matt and I's one month married anniversary! (I'm trying to get over my phobia of posting pictures of myself on the internet, so here is a picture of us on our second date in March of 2009).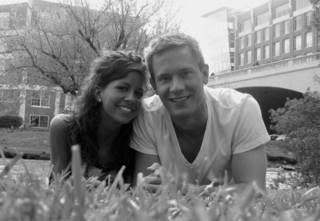 Our relationship has been really unique in that we're living apart until December, when I will graduate from college and move out to be with him on the West Coast. Until then, we've been seeing each other once every two to three weeks, but the times in between I miss him like crazy.
Though we're used to long distance (we've been flying across the country- and even across the world, when I studied abroad for a semester in Australia- for our entire relationship), it is definitely true that "distance makes the heart grow fonder," and we are anxiously counting down the days until December 12 when I will walk across that stage.
There are 3,000 miles between us, but that's never stopped Matt or I from wanting to be together. So far in our relationship, between the two of us, we've traveled a total of 96,500 miles (Matt did the math…ha!) Eh…seems like nothin' when you're in love. :)
Now, listen and love.